Archival services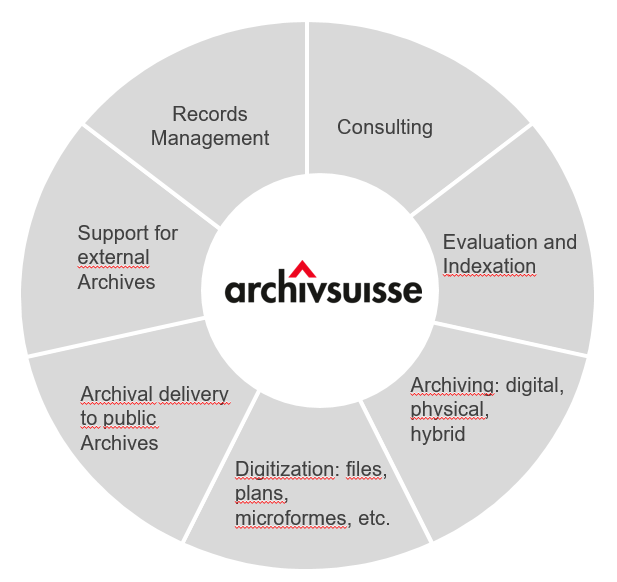 archivsuisse (previously archivbern/archivzürich) has local roots in Berne and Zurich and is a  leading national provider of individually customized archiving solutions:
We consult, operate archives, and archive physical files and digital data in Switzerland. archivsuisse is run by archiving specialists and is owner managed.
archivsuisse's customers include SMEs and large corporations, associations, public institutions, federal, cantonal, and communal administrations, medical practices, law offices, and private persons. We attach great importance to high security standards and discretion.
Service Overview:
Disorganized files, overflowing filing trays, unclear retention periods – we have many years of experience with the archiving of files and digital data, and in collaboration with the customer, we develop individually customized solutions for every archiving Problem.
Already during the pre-archival phase, archivsuisse manages dossiers that are still in use for day-to-day business.
archivsuisse archives physical document collections, files, plans, and books in its secure archive facilities in Switzerland. The infrastructure, which was developed specifically for this purpose, and the state-of-the-art logistics system enable anonymous and cost-effective archiving solutions.
archivsuisse offers a secure, comprehensive, and cost-effective solution for the electronic long-term archiving of digital data (various data formats and e-mails). Digital information is not only stored, but also archived in an audit-compliant manner while ensuring its integrity and authenticity is maintained.
Usually, public archives require files to be handed over in a fully processed form. archivsuisse knows the applicable requirements of the public archives (e.g. state archives or the Federal Archives) and has the necessary personnel resources to support the customer throughout the entire process; from submitting the file tender right through to the handover to public archives.
There is a wide-spread demand for direct access to documents at the click of the mouse. The path to digital filing and to a digital archive is based on scanning; it enables electronic access to the required files regardless of place, time, and person.
For the digitization of document inventories in various formats (through to A0), archivsuisse has a modern scanning infrastructure with high-performance scanners and a specialist software solution. We offer versatile scanning services that are based on the highest security Standards.
archivsuisse digitizes microforms (e.g. microfilms) on the basis of the highest security standards and re-establishes their easy accessibility and readability.
archivsuisse supports companies, associations, public institutions, and private persons with the management of their archives. In concrete terms, this means: Your archive remains at your premises, our specialized staff  manages it for you at your premises.
You would like to read your grandparents' letters, an old diary, or a purchase contract, or work with records in running hand (Sütterlin, calligraphic writing), but do not have sufficient time or practice in deciphering them. Our specialists will be pleased to carry out this task and transcribe old and new handwriting for you.